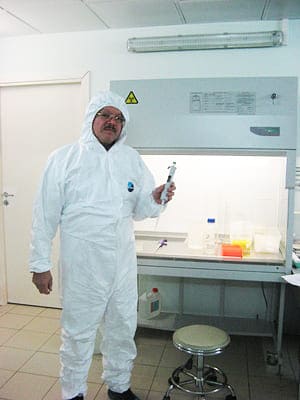 Most likely, you have already been looking for necessary information about health protection in magazines and newspapers or on WWW. I think, you will agree, that even a man experienced in biomedicine could easily get lost in such an array.
Recently I have made an experiment myself and examined some 300 sites on health correction. I have learned many interesting things in the process, about some people whom I know. Somebody introduces himself as a doctor in medicine or professor, while never having defended a candidate, let alone a Doctor of Science thesis. By the way, a presence of any scientist's or healer's academic degree can easily be checked on the official website of Russian State Library. All you need is to search that person's name in the «dissertations» section of ste and you will know the subject and date of his or her dissertation.
To give more credence to authorial methods and discoveries, it would be most reasonable to clear up a question about the quality of publications by the authors of websites on health who are the developers of new biomedical preparations and techniques. In doing this it must be clearly understood that any advertising publications in press or booklets, published at one's own expense, along with the patients' grateful responses are good, but scientific publications (including patents) in reviewed domestic and international periodicals — it's quite another matter.
Being an expert, who have published over one hundred works in Soviet, Russian and international periodicals, I know quite well how difficult is for Russian scientist to publish his or her work in prestigious western journal because of the editors' biassed approach. I know from my own experience how they refuse to publish our works on the base of far-fetched negative comments by anonymous «local» reviewers, send papers back for revision, don't notice and suppress papers in Russian.
But if the papers by our specialists that do get published abroad are really sensible, they immediately become cited in tens of periodicals all over the world, and their ideas are used in practice — and this is quite reliable efficiency rate of a Russian scientist who is thereby included among the «trendsetters» in particular field.
It's pleasing to note that scientific publications from our laboratory are widely discussed and by 2010 have been cited in 150 scientific papers, published in 90 well-known European and American journals. Also it's interesting fact, that our works on fishes genetics and life prolongation in animals were repeatedly discussed in authoritative journals Nature and Science. Owing to our priority publications, western researchers are industriously «digging» in the two new lines of biomedical investigation, discovered by us: the genome of banstikle (Gasterosteus) as an analogue of human genome and the «life-prolongating parasite» (a model «white shell (Margaritifera) — salmon»).
And we are sad to realize, that foreign scientists will undoubtedly discover new method of treatment and powerful drugs due to strong financing and the use of modern equipment which our scientists-inventors are lacking.
I have seen at some forums on health in WWW rather strange remarks concerning my work, such as 'why an inventor of «Arctic plus» has contented himself with a patent for an invention and the preparation safety examinations? Why did not he carry out the official clinical trials first of all? The drug does not look trustworthy enough without them'.
OK, I should answer. If you will look for the «cost of clinical trials» in any search system (Google, Yandex or some other), you will found that expenses for the standardized clinical trials of single medicinal preparation have grown from $ 1000.000 to $1.3 billions within the last 8 years. Clearly, such expenses are affordable only for the giants of pharmaceutical industry. For comparison: a typical research RFFI grant for a small collective of 3 to 4 investigators working in an institution belonging to Russian Academy of Sciences is within the limits of $10.000 a year. With such funding it would take 100.000 years to collect enough money for clinical trials. So I would be very pleased if those «critics» would find some sponsors for us.
And so long as Russian authors remain to be poor (and even destitute) by western standards, they have to legalize their developments using any available means not forbidden by RF legislation such as to take out patents for inventions, to carry out a paid facultative certification in licensed centers of the Ministry of Public Health, to register their preparations as bioactive food supplements in Rospotrebnadzor an even to officially register their drugs as veterinary ones (as if for animals). This costs substantially less then millions and even hundreds thousand dollars. And if such enthusiasts do not give up, particularly in the conditions of our total corruption, they deserve at least some respect!
Production volume of our experimental preparation — oncogeroprotector «Arctic plus» is rather low and suffice only for relatively small group of volunteers. The reason is high fabrication cost of preparation's components: they are scrupulously collected in micro doses from unique animals-donors by means of special technique, so that our elite breed of non-aging tidder fish and mollusks white shell remain alive and healthy.
Fishermen from Russian North and Siberia occasionally ask me in their letters if it is possible to prepare a medicinal tincture from white shell at home?
My answer is: NO, IT IS IMPOSSIBLE
The point is, the white shell in the course of its long evolution has developed a repulsive taste of its watery meat as a passive protection against predators (such as sea eagle, otter, mink, etc.). In addition, all its other tissues (mantle, gonads, intestine and others) are mildly poisonous for vertebrates and even for helminthes-parasites. By the way, German experts have made an analysis of historical culinary archives in 17 European countries from Spain to Norway and from Ireland to Russia where in Middle Ages thousands of rivers were inhabited by billions of white shell specimens. They have found that in spite of white shell total catch for pearls it never have been used for food even in cooked, baked, salted, dried or alcoholized state.
For the preparation of a medicinal extract it is necessary to learn many intricate techniques such as to obtain white shell's viable larvae-glochidia and successfully introduce them into the gills of certain species and populations of salmon fishes, to grow those fishes in underwater cages, to prepare an extract of those fishes' gills, to purify it by molecular filtration and then mix it up with tidder fish extract etc., etc. In other words, to use a know-how of our patented technology, developed by us during a long time.
The point of an informational website «Arctic plus» creation is to show that in spite of scanty salary and the young people's massive departure abroad, still there are useful scientific developments at the interface of biology and medicine. Perhaps future investors will be interested in the creation of a genetically engineered analogue of »Arctic plus» preparation or in its modification for use in ultra low dosages. In such cases it would be possible to produce and sell tens or even hundreds thousand doses of oncogeroprotector.
Our informal creative group also develops other remedies against ageing and cancer, based exclusively on natural components. Their sources are «non-aging» animals that are able to effectively rid themselves of their own pathological cells. Our collective includes both young and gifted biologists and medics and experienced clinicians.
You may rely on our trying to do our best to assist everybody in need of help.
We wish you sound health and good luck!
Valery Zyuganov